Steps To Take After A Slip And Fall On Business Property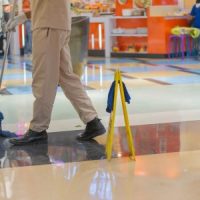 When you visit a retail store or other business, you never expect to become injured while you are there. This is largely due to the fact that all business owners have a responsibility to maintain their premises in a manner that will keep everyone who enters it safe. Unfortunately, not all business owners fulfill their required duty of care.
Slip and falls are very common on business properties and if you have been hurt, there is no guarantee that you will recover the full damages you are entitled to. Below, our Knoxville slip and fall attorney outlines the most important steps to take to ensure you receive the full settlement you are due.
Learn Everything You Can About the Accident
You need to know as much as possible about your accident. For example, if your slip and fall was caused by a spill on the floor, you should identify what the liquid is, write down its characteristics, such as the color, and determine where it came from.
Determine if the Business or Employees Knew of the Dangerous Condition
Business owners are expected to keep their premises in a reasonably safe condition. This means that while property owners must regularly inspect their premises and make repairs, they may not know of a dangerous condition that just occurred. For this reason, it is essential to determine if the business, or its employees, knew about the dangerous condition. On the other hand, if an owner or employee creates a dangerous condition, it may not be necessary to prove that the business should have known about it.
Take Photos of the Cause of Your Fall
It is important to any claim to take pictures after an accident, and this is true with slip and falls, as well. Pictures can provide contextual and visual evidence. Using the same example as the spill above, having a photo of the liquid you slipped on not only validates your claim, but it also provides more detail than a simple description of it.
Fill Out an Incident Report
Most businesses have incident reports they ask customers to fill out after an accident such as a slip and fall. If you need immediate medical attention, tell the business owner you will fill out the report as soon as you receive treatment. If you are able to complete an incident report while still at the scene, always ask for a copy so it is not altered after you leave the premises.
Ask the Business Owner to Preserve All Video Footage
Most businesses have video surveillance cameras on their premises. Under Tennessee law, business owners are required to preserve all evidence, including video footage, when there is a premises liability claim. Still, because video footage is often recorded in a short period of time and one time period may be recorded over another, it is important to tell the business owner of their legal obligation to retain the footage.
Our Slip and Fall Attorney in Knoxville Can Help After an Accident
If you have been hurt while visiting a business, you need the help of a Knoxville slip and fall attorney.  At Brezina Law, PLLC, we will advise you every step of the way so you can make informed decisions that will give you the best chance of obtaining the full and fair settlement that is justly yours. Call us now at 865-500-3121 or reach out to us online to schedule a free consultation.
Source:
nashvillebar.org/index.cfm?pg=Torts