Five Things You Should Never Do After A Slip And Fall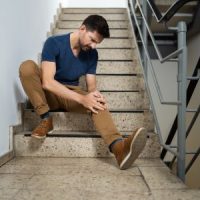 After a slip and fall accident on someone else's property, you may be eligible to file a claim for financial compensation. Known as damages, this compensation can help offset the financial burden of your medical expenses, lost income, and other losses. These claims are never easy to file, though, and one small mistake could place any compensation you deserve in jeopardy. Below, our Knoxville slip and fall attorney outlines the five biggest mistakes to avoid after one of these accidents.
Failing to Seek Medical Attention 
The injuries sustained during a slip and fall accident are some of the most serious. You may have hit your head, broken a bone, or suffered another catastrophic injury. It is critical that you seek medical attention so you can receive the treatment you need so your injuries do not become worse. Additionally, seeking medical treatment for your injuries will also document them. If you do not see a doctor after a slip and fall, the insurer will argue that you were not injured.
Not Filling Out an Incident Report 
If you fell in a restaurant, store, hotel, or other business, they will likely have an incident report they will ask you to fill out. You should fill this form out, but also make sure you ask for a copy before you leave. This will ensure that the document is not altered or changed once you leave the premises.
Speaking to the Insurance Company on Your Own 
Insurance companies are big businesses and they try to protect their profits by reducing, denying, and delaying valid slip and fall claims. They have many tactics they use when trying to do this. They may ask you to provide a recorded statement so they can take your words out of context and use them against you. Or, they may ask you to sign a medical release so they can access your health records. They do this to argue that a pre-existing condition caused your injuries, and not the accident. To avoid these tactics, never speak to an insurance company until you have legal representation.
Signing a Document Before a Lawyer Reviews It 
A medical release is just one document the insurance company may ask you to sign. They may also offer you a settlement and ask you to sign it. The initial offer or two will not be enough to fully cover the cost of your injuries. If you accept one of these lowball offers, you cannot return to the insurer in the future for additional damages. Always ask a lawyer to review any document the insurer asks you to sign so you do not sign away your rights.
Waiting Too Long to Speak to a Slip and Fall Attorney in Knoxville 
After a slip and fall, you only have one year from the date of the accident to file a claim. At Brezina Law, PLLC, our Knoxville slip and fall attorney can advise you of your rights, will never let the insurer violate them, and act as your advocate throughout the entire process. Call us today at 865-500-3121 or connect with us online to schedule a free consultation.
Source:
tn.gov/commerce/insurance/consumer-resources/file-a-complaint.html