Do Business Disputes Always Go To Trial?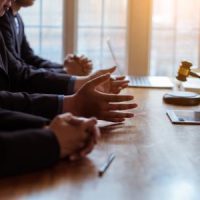 If you are a business owner in Knoxville, you know the business world has many ups and downs. Sometimes, things are good. Demand may be up for the good or services you offer your customers, and your employees are happy. However, there are times when builders, manufacturers, or suppliers may not uphold their end of an agreement or contract, or an issue with an employee arises. In these cases, you may find yourself facing business litigation.
Like most business owners, you likely want to avoid commercial litigation altogether. Fortunately, not all disputes that arise in business make it to the trial phase. Below, our Knoxville commercial litigation attorney outlines how you can avoid taking your dispute to trial.
Drawbacks to Litigation
There are many reasons business owners want to avoid litigation. The most common of these include:
The high cost: Litigating any legal dispute is always the most expensive way to resolve it. As a business owner, you already incur many expenses and likely do not want to take any additional ones.
The time: Your business needs you in order to run effectively and smoothly. Any time that you spend at a trial or in the courtroom is time you are taking away from your business.
Public record: Anything that happens in open court becomes a matter of public record. This means anyone can look up your business and learn of any dispute you took to court. Most business owners want to keep the legal side of their operations confidential.
How Arbitration Can Help You Avoid Litigation
Arbitration is a form of dispute resolution used by many businesses. During arbitration, you and the other side meet with a third party arbitrator. The arbitrator will hear both sides of the case before making a decision. Like a judge, the decision of the arbitrator is final and legally binding.
Arbitration has many benefits over litigation. The cost is much lower than taking the matter to trial, and while trials can take several weeks or months, arbitration can resolve a dispute in just a few sessions. Additionally, anything that is said or decided during arbitration is confidential, meaning no one can look up the details of your business you would rather keep private.
Lastly, while it is the arbitrator who makes the ultimate decision, business owners still have a greater degree of control over the outcome than they do during a trial. If your dispute goes to trial, a judge will be randomly assigned to your case. On the other hand, if you choose arbitration, you can pick the arbitrator you want to use, giving you a bit more control over the entire process.
Our Commercial Litigation Attorney in Knoxville Can Advise You of Your Legal Options
Arbitration is a good option for many, but there are times when it is not appropriate. At Brezina Law, PLLC, our Knoxville commercial litigation attorney can review the facts of your case and help you determine which resolution method is the best for you. Call us now at 865-500-3121 or contact us online to schedule a free consultation and to learn more about your legal options.
Source:
tned.uscourts.gov/mediationarbitration