Steps To Take After A Slip And Fall Accident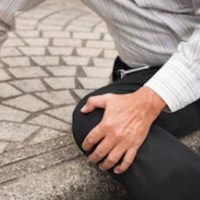 Contrary to what many people think, slip and falls are not usually minor incidents. They are very serious accidents that have the potential to cause catastrophic injuries. Property owners have a legal duty to keep their premises in a safe and clean condition so no one becomes hurt. When property owners fail to meet this duty and allow broken steps, loose wires, and other hazards to exist on their property, they can be held liable.
You can file a claim to recover compensation for your injuries and other losses, but filing a personal injury claim is never easy. The steps you take immediately after an accident can either help or hurt your claim. Below, our Knoxville slip and fall attorney outlines the most important steps to take after an accident.
Do Not Accept Blame
You may be tempted to apologize for the accident, or blame what happened on yourself. You may want to say something such as, "I am always so clumsy," but it is critical that you do not. If you became hurt on someone else's property, it was likely a property owner who was to blame, and not you. Admitting any type of fault now will hurt your claim later. The property owner and the insurer covering them will argue that you accepted blame for the accident at the time and so, you do not deserve compensation.
Seek Medical Attention Right Away
After any accident, receiving prompt medical attention is always the priority. You do not want your injuries to become worse, and you need to protect your own safety and well-being. Seeing a doctor immediately after a crash will also document the nature and severity of your injuries through your medical records. These are very important pieces of evidence in any slip and fall claim. Additionally, if you do not see a doctor after your accident, the insurance company will argue that you were not hurt because you did not seek treatment.
Locate Witnesses
Other strong evidence for your claim may include eyewitness statements. As soon as possible after a slip and fall, locate any witnesses who may have seen what happened. Ask them for their names and contact information. These will be very useful to your lawyer later, but may be nearly impossible to find after the fact.
Do Not Sign an Incident Report
After being hurt on someone else's property, particularly a business or public space, the owner or operator may ask you to sign an incident report. Never sign this report before a lawyer looks it over. Take the report with you and say you will obtain advice from your attorney before submitting it.
Call a Slip and Fall Attorney in Knoxville
At Atkins Brezina, PLLC , our Knoxville slip and fall attorney has extensive experience with premises liability claims. We understand the severity of the pain and suffering caused by life-changing injuries, and are dedicated to helping you claim the full and fair compensation you deserve. Call us now at 865-500-3121 or contact us online to schedule a free consultation.
Source:
law.cornell.edu/wex/negligence