Signs Of Emotional Abuse In A Nursing Home Setting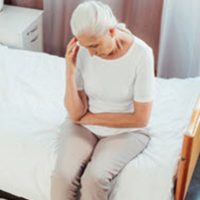 When we think about nursing home abuse, we usually think about the physical signs. Bedsores, broken bones, and bruises get our attention and sometimes even make the news. Not all nursing home abuse is physical, however. Another, equally troubling, issue is emotional abuse that routinely occurs at nursing homes in Tennessee and elsewhere.
Overall, the World Health Organization estimates that nearly 1 in 3 residents of nursing home facilities report some form of psychological abuse during their stays. This includes reports by family members or representatives of those unable to speak for themselves. Disturbingly, the rates of emotional abuse are believed to have increased since the Covid-19 pandemic began.
Verbal abuse, ridicule, humiliation, and manipulation of older nursing home residents can be just as damaging to the resident and their family as a physical injury. In fact, emotional abuse can linger far longer than a physical act in many cases.
What is "Emotional Abuse"?
Emotional, or psychological abuse, is generally defined as the "intentional infliction of anguish, pain, or distress through verbal or nonverbal acts". This can include threats, harassment, and acts of intimidation or humiliation. Yelling, shouting, or openly ridiculing a patient are the most obvious examples of this. Emotional abuse can take other forms, though, including even nonverbal acts or behaviors that make a resident feel shame, guilt, or sadness. Frequently, this may include isolating a resident from contact with other residents or even family members.
What makes this type of abuse more difficult to track is that it occurs often behind closed doors and outside the presence of family members or other caretakers. Studies also show that seniors in nursing homes are unlikely to speak out for themselves on these issues for a wide variety of reasons. As such, we need to closely monitor our loved ones for indications that they may be experiencing emotional abuse at a nursing home.
Signs and Symptoms of Emotional Abuse in a Nursing Home Setting
Signs and "red flags" to watch out for include:
Loss of appetite
Sudden, unexplained weight loss
Refusal to take medications
Isolation
Changes in personality or signs of withdrawal
Depression or anxiety
Fear of speaking out
Lack of sleep
Trembling, shaking, or signs of fear – especially around certain staff members
Confusion, disorientation, or seeming "out of it"
Abnormal behavior such as rocking back and forth, fighting, or unusual fidgeting
This list is not comprehensive – you know your family member better than anyone else, and if anything seems out of the ordinary, you should say something.
When to Speak with an Attorney
If your loved one has experienced any form of emotional abuse while in the care of a nursing home facility, they have important rights that can be enforced at an administrative level and a legal level. Sometimes reporting an issue to a higher-up seems to go nowhere. Even if some corrective action is taken, that doesn't right the wrong that occurred to your family member. They may have legal rights to enforce in a court of law – including financial compensation for the harm that was done. An experienced Tennessee nursing home attorney can review the facts of the matter and determine what these steps can include.
The Knoxville, Tennessee Nursing Home Litigation Attorneys at Brezina Law, PLLC, Can Help if Your Loved One Suffered Emotional Abuse 
When you take a loved one to a nursing home or assisted living facility, you expect them to receive quality care and, at minimum, the respect they deserve. Sometimes, sadly, this doesn't happen. If you suspect that your family member was verbally or emotionally abused by a staff member at a nursing home facility, it is only right to pursue legal options on their behalf. Our legal team at Brezina Law, PLLC, has been there before for other families, and can help you through this difficult process. Don't hesitate to contact our Knoxville nursing home malpractice attorneys at Brezina Law, PLLC by phone at 865-500-3121 or online today.
Sources:
ncbi.nlm.nih.gov/books/NBK98786/
who.int/news-room/fact-sheets/detail/elder-abuse