Financial Exploitation Of Seniors In Nursing Homes: How It Happens And What You Can Do About It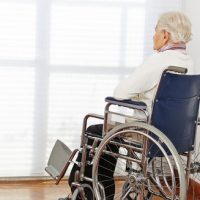 Many are shocked to learn that 1 in 6 people age 60 and older experience some form of abuse in community settings each year. This can include various types of abuse including physical abuse, sexual abuse, malnutrition, and neglect. Financial exploitation is another form of abuse in nursing homes and assisted living centers, and occurs more often than some might expect. The National Center on Elder Abuse reports that 13.8% of abuse toward seniors in institutions is financial in nature.
Financial exploitation of the elderly involves illegal takings, misuse, or concealment of money or property. Older people – especially those suffering with dementia or other cognitive impairments – are uniquely susceptible to financial fraud. Even seniors that aren't affected by cognitive decline can be vulnerable to exploitation, simply because of the power imbalance that arises when they are under the care of a nursing home or assisted living center.
We've all heard about phone scams targeting elderly people (and adults of all ages), but other common exploitation techniques include improper use of a person's funds or bank accounts, coercing them into signing documents and contracts, and misuses of conservatorships, powers of attorney, and guardianships.
Common Signs of Financial Abuse Among the Elderly
If a senior is a victim of financial exploitation, they may be unlikely to speak out (or unaware that they are being targeted). However, there are often some "red flags" or signs that a loved one can look out for, including:
Sudden or unexplained changes in bank account or banking practices. This can include unusual withdrawals from accounts or the addition of signatories or authorized users.
Unexpected updates to wills or changes in powers of attorney
Unexplained transfers of assets
Missing personal items, especially items of value
Unpaid bills that a person should have been able to afford under their budget
Unnecessary services or items being provided to an individual
Anxiety, depression, or other changes in behavior
Any other evidence of poor or unusual financial decision-making
There are some steps we can take to prevent financial abuse from happening to our loved ones. Some steps recommended by the AARP to prevent elder financial abuse include getting to know their providers at a nursing home and making sure they know you are involved in their care. Appointing a trusted relative or contact to oversee their financial accounts can help in many situations as well.
Sometimes, despite our best efforts, financial abuse will still occur and a family must pick up the pieces and take the next steps. These steps may include legal action from an experienced Tennessee nursing home litigation attorney.
The Knoxville, Tennessee Nursing Home Litigation Attorneys at Atkins Brezina, PLLC , Can Investigate and Take Action if Your Loved One Was a Victim of Financial Abuse at a Nursing Home 
When a loved one receives nursing home care, you expect that their needs will be attended to and their rights will be respected. This includes their right to privacy regarding financial affairs and freedom from exploitation. If you suspect that your family member has been taken advantage of financially in any way while at a nursing home facility, you should consider all legal options available. Our Knoxville nursing home malpractice lawyers at Atkins Brezina, PLLC , can help your family review a difficult situation and work through any additional steps that may be necessary.
Sources:
aarp.org/money/scams-fraud/info-2021/prevent-elder-financial-exploitation.html
who.int/news-room/fact-sheets/detail/elder-abuse