Does Tennessee Law Cap Compensation In Medical Malpractice Cases?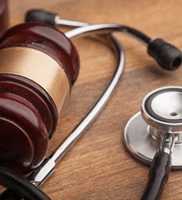 When you visit a doctor's office, hospital, or other healthcare facility, you expect to receive the highest quality of care to treat your injury or illness. Doctors, nurses, and other medical professionals, though, are human and can make mistakes just like anyone else. When a healthcare professional acts negligently and does not provide the proper standard of care, they can be held liable for paying compensation.
In Tennessee, it is harder for victims of medical malpractice to obtain the full amount of damages because state law places a cap on the amount of compensation one can receive. Below, our Knoxville medical malpractice attorney explains more.
Economic vs. Non-Economic Damages
As in other states, medical malpractice victims can file a claim against the liable party to recover economic and non-economic damages. Economic damages involve losses that have an actual dollar value. These damages are easier to calculate and can include compensation for medical expenses, lost income, and other losses.
Non-economic damages include losses that do not have a concrete dollar value. Pain and suffering, loss of enjoyment of life, and loss of consortium are just a few of the most common types of non-economic damages. Due to the fact that non-economic damages are much more difficult to calculate, it is best to work with a Knoxville medical malpractice attorney who can accurately evaluate these losses.
The Cap on Damages in Tennessee
Unfortunately, the law in Tennessee does make it more difficult for injured patients to recover the full amount of damages they deserve. Although economic damages are not capped at any limit, the law does cap non-economic damages at $750,000.
It is important to note that the cap applies to each claim, not each plaintiff. For example, damages for loss of consortium can be claimed by a spouse of a medical malpractice victim if their injury prevents them from having an intimate relationship. If the spouse receives $100,000 for their loss of consortium damages, the remaining compensation awarded to the victim cannot be greater than $650,000.
There is an exception to the cap on non-economic damages in Tennessee. If the medical malpractice resulted in a catastrophic injury, such as an amputation or paralysis, the cap is increased to $1 million. Still, it is critical to work with a Knoxville medical malpractice lawyer who can accurately evaluate all economic and non-economic damages. The law on capped damages makes it very difficult for injured patients to recover the full and fair damages they are entitled to.
Our Medical Malpractice Attorney in Knoxville Can Help You Claim Full Damages
If you have been hurt by medical negligence, you need legal counsel who can help you claim the full damages you deserve. At Brezina Law, PLLC, our Knoxville medical malpractice attorney can accurately value your claim and present strong evidence to help your case and give you the best chance of a successful outcome. Call us now at 865-500-3121 or contact us online to schedule a free review of your case and to learn more.
Source:
tn.gov/health/health-professionals/hcf-main/filing-a-complaint.html