Is Mediation Right for Your Business Dispute?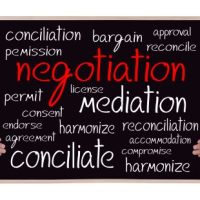 Disputes regarding breach of contract, intellectual property, and partnerships are very common in business. It is critical to resolve these disputes as quickly as possible as they can be very damaging to your business. When resolving a commercial dispute, you have many options. Litigation is not always the best choice and business owners often find that mediation is a better alternative. Below, our Knoxville business and commercial law attorney explains more about this type of alternative dispute resolution.
What is Mediation?
 Mediation is a process that allows both sides to compromise and communicate in order to resolve their dispute. During mediation sessions, a mediator is present to help both sides reach a solution that is favorable to all sides. Mediators do not provide legal advice, but they can recommend solutions to a dispute. Mediation does not take place in a courtroom. Instead, sessions occur in a neutral location, such as in a lawyer's office or in a conference room.
Mediation is often a very good alternative to litigation. However, there are times when it is not successful. When that is the case, the parties can enter litigation where a judge will make all of the decisions in the case.
Benefits of Resolving Disputes Through Mediation 
Mediation has many benefits over litigation. These are as follows:
More affordable: As a business owner, you are likely very worried about the costs your company incurs. Litigation can cost thousands of dollars, and at times even tens of thousands of dollars. Mediation, on the other hand, is much more affordable and in many cases, the two parties involved divide the costs equally between them.
Faster process: Mediation also takes just a fraction of the time as litigation. This is one reason mediation does not cost as much as litigation. When going through litigation, you are subject to the schedule of the court and your case could take several months, or even more than one year, to resolve.
Confidentiality: As a business owner, you likely do not want certain business matters to become a matter of public record. Anything that happens in open court, however, does become public. When resolving your dispute through mediation, you can keep anything that happens confidential, further protecting your business.
More control: Again, if you litigate your dispute, a judge will make all of the decisions in your case and you may have very little say over the process. During mediation, though, you are in control of the process and this can help you get a better result.
Our Business and Commercial Law Attorney in Knoxville Can Help During Mediation
 Even though mediation holds many benefits, you still need legal advice when going through the process. At Atkins Brezina, PLLC , our Knoxville business and commercial law attorney can provide it while guiding you through the process and helping you obtain the best outcome possible. Call us now at 865-500-3121 or connect with us online to request a free consultation with our knowledgeable attorney and to learn more about how we can help.
Source:
tncourts.gov/rules/supreme-court/31