Filing A Medical Malpractice Claim In Tennessee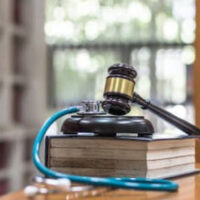 If you or a loved one has suffered further injury or illness as a result of improper medical treatment, you may have a medical malpractice claim. In Tennessee, these are referred to as Health Care Liability Claims, and you may be entitled to monetary damages as a result of:
Misdiagnosis or delayed diagnosis
Medication errors
Hospital-acquired infections
Failure to treat or refer to a specialist
Lack of informed consent
Childbirth injuries and failure to treat prenatal issues
Surgical errors
Anesthesia errors
Dental malpractice
Nursing home malpractice
Other medical errors resulting in injury, caused by a failure to adhere to the standard of care for a patient
Any deviation from the standard of care expected of medical professionals can result in a health care liability claim. This includes treatment administered by physicians, physician assistants, nursing staff, and even EMT workers. How common are serious medical errors? A 2016 Johns Hopkins University study estimated that over 250,000 U.S. deaths each year are caused by errors in medical treatment. Mistakes happen, and must be addressed when they do.
You are not alone if you were a victim of medical negligence. Most importantly, you have legal options available in the event of an unfortunate medical injury. Our firm can investigate your case, including the individual circumstances and liable parties, and help you recover damages for physical and emotional damages. You could be entitled to financial compensation related to medical treatment, lost pay, and other losses including pain and suffering.
When should I talk to an attorney?
As soon as you can. Tennessee law imposes deadlines for filing claims and you must take action within the statute of limitations. In Tennessee, the statute of limitations for health care liability cases gives you only one year to file your lawsuit, depending on when the injury was discovered. If a patient's injury is not discovered within that one-year period, the statute of limitations period starts and the "clock" begins ticking when the injury is eventually discovered. Even then, a time limit of three years overall still exists, subject to some rare exceptions.
Tennessee medical malpractice law also requires the plaintiff to provide pre-suit notice to the doctor or hospital that they are about to be named as a defendant in a health care liability action. The law is very specific and detailed about what must be included in this notice and how it has to be served on the defendant. This notice gives the potential defendant 60 days to gather relevant medical records and other information about the claim and hopefully resolve the matter before a lawsuit is filed. Properly filing this notice also extends the one-year statute of limitations imposed on health care liability actions in Tennessee, giving the plaintiff an extra 120 days to decide whether to file a lawsuit or not.
Why Atkins Brezina, PLLC? 
Atkins Brezina, PLLC , excels in helping victims of medical errors across the spectrum of health care liability actions in Tennessee, including medical malpractice, nursing home malpractice, and dental malpractice. These complex and highly technical claims require a special level of skill and expertise to uncover medical malpractice and explain it in a way that proves your case to a judge or jury.
E. Michael Brezina, III's career includes more than fifteen years of litigation experience in the private and public sectors, including extensive and diverse trial experience. His background and experience makes him uniquely qualified to advance your case and help you recover what you are entitled to.
Our firm also practices with J. Tucker Montgomery, M.D., J.D. – an attorney and doctor who has years of continued licensure in both professions. This means you can receive an analysis of the merits of your claim based upon the knowledge and experience of an attorney who has been and is currently a medical doctor. This reduces unnecessary delay, cost, and confusion and will help you get to the heart of your case. Dr. Montgomery's clinical experience in the medical field provides a unique and invaluable asset in the pursuit of your malpractice claim.
Call now for a free consultation
If you believe that you or a family member were harmed by medical malpractice, call Atkins Brezina, PLLC , at 865-500-3121 for a no-cost consultation with a skilled and experienced Knoxville medical malpractice attorney. There is no fee unless we win your case.
Resource:
usnews.com/news/articles/2016-05-03/medical-errors-are-third-leading-cause-of-death-in-the-us