What Are The Commercial Arbitration Rules In Tennessee?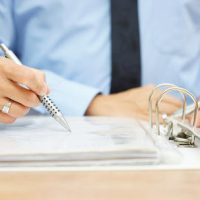 If you have a commercial law dispute, there are many legal avenues you can use to resolve it. Litigation, which involves taking the matter to court, is the most time-consuming, expensive, and damaging to businesses. It is for this reason that so many business owners choose arbitration as a means to resolve their dispute.
Arbitration comes with its own rules and guidelines, many of which are outlined by the American Arbitration Association (AAA). Below, our Knoxville business and commercial law attorney outlines some of the main rules you should know about if you are headed into arbitration.
Only One Arbitrator is Usually Used 
During arbitration, an arbitrator hears both sides of the case and resolves the dispute by making the final decision. Under the arbitration rules outlined by the AAA, most cases will involve just one arbitrator, unless the parties involved agree to use multiple arbitrators. When a claim or counterclaim involves at least one million dollars, three arbitrators will hear the case and make the final decision together.
Majority Decision 
When a dispute involves a panel of three arbitrators, it is the decision of the majority that rules. If there is a dispute regarding the discovery process, the arbitrator who was selected as chairperson will make the final decision. When just one arbitrator hears a case, they will make the final decision. Regardless of how many arbitrators decide on a case, the decision is legally binding.
No Reasoning Required 
Generally speaking, arbitrators are not required to provide a reason for their decision. Instead, the arbitrator has full discretion to make their decision based on what they believe is best and fair. The only exception to this is when the parties have requested a reason be provided prior to an arbitrator being assigned to the case.
Evidentiary Rules 
When taking a commercial dispute to court, there are many rules regarding the evidence that can be presented by either side. These same rules do not apply during arbitration. Either party can present evidence that is relevant and material to the dispute during arbitration. Still, the arbitrator has the sole discretion to determine what evidence can be included, and what evidence should be excluded.
Interim Measures 
When a legal issue is taken to court, a judge can take interim measures to protect people or property. This is known as injunctive relief. Under the AAA's rules, arbitrators can also take interim measures when necessary. For example, if a partner in a business believes another partner is misappropriating funds, an arbitrator may order a temporary freeze on the account being used to ensure no additional funds are used before a final decision is made regarding the dispute.
Our Business and Commercial Law Attorney in Knoxville Can Help with Your Dispute 
Arbitration can be useful when resolving commercial law disputes, but you still need legal representation to ensure your rights are protected. At Atkins Brezina, PLLC , our Knoxville business and commercial law attorney can provide the strong representation you need and will work tirelessly to help ensure you receive the favorable outcome you deserve. Call us now at 865-500-3121 or contact us online to schedule a free consultation and to learn more about how we can help.
Source:
adr.org/sites/default/files/Commercial%20Rules.pdf