Understanding The Risk Of Bone Fractures In Nursing Homes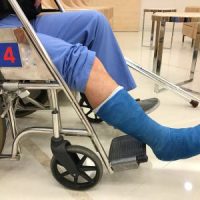 Nursing homes should be safe and happy places of care for our elderly loved ones. We count on these facilities to provide skilled care that our family members depend on to get well and stay well as they live out their golden years. However, injuries happen more often than most would expect, and many of these injuries include bone fractures at nursing homes.
Some broken bones are due simply to accidents and bad luck, but some can be attributed to negligence or even abuse by nursing home providers. Over 90 percent of fractures among those age 65 and older are caused by falls, regardless of their cause. Over 300,000 seniors over 65 are hospitalized each year due to a fall, according to the CDC. Sadly, over 34,000 deaths result from falls each year across the United States.
An estimated 1 in 3 Americans over age 65 will fall each year – sometimes experiencing serious injuries including bone fractures. The elderly are more susceptible to fractures due to weakened bone condition or osteoporosis, in combination with decreased muscle and fat to aid the body during a fall.
Common types of bone fractures among the elderly include:
Hip fractures
Pelvic fractures
Fractures of the back or vertebrae
Fractures of the femur or tibia
Arm fractures
Hand fractures
Ankle or foot fractures
Fractured skulls.
Given the likelihood of falls among the elderly and the risks associated with falls, one would imagine nursing homes take every measure possible to prevent broken bones in their facilities. Sadly, this is not always the case. Some studies show that 20-30% of nursing home falls are preventable, and nearly 20% of nursing home residents experience a fall at least once every 3 months.
What Should You Do If Your Loved One Suffers a Bone Fracture in their Nursing Home?
If your family member suffers a broken bone – from any cause – in a nursing home, you will need to investigate what happened and who was present at the time of the incident. (If the resident was alone, you need to find out why they were left alone.)
It is also essential to obtain a detailed medical report and description of events from the nursing home facility. What did the facility do in response to the incident in order to treat the patient? If similar events have occurred at the facility, you'll want to know what – if any – remedial measures were taken to prevent further incidents.
When the nursing home can't adequately explain what happened, and how it happened – or something just doesn't add up – it might be time to meet with an attorney. You and your family have legal options available in these situations, including the right to file a lawsuit for damages.
The Nursing Home Litigation Attorneys at Brezina Law, PLLC Know Your Legal Rights After a Broken Bone Incident at a Nursing Home
Ideally, the thought of your loved one falling and breaking a bone while at a nursing home shouldn't even cross a family's mind. This is a severe injury that should be prevented at all costs. Sadly, bone fractures happen all too often in nursing home settings. When they do, the attorneys at Brezina Law, PLLC can help. Our Knoxville nursing home malpractice lawyers have significant experience addressing serious nursing home abuse and neglect claims, including acts of negligence leading to broken bones. To learn more about your family's options, contact our Knoxville Nursing Home Litigation staff at Brezina Law, PLLC by phone at 865-500-3121 or through our firm's online contact center.
Source:
ncbi.nlm.nih.gov/pmc/articles/PMC6228283/